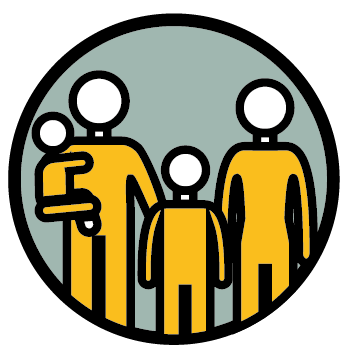 Have fun with children
Plans to discover Onís with the family
Whatever your family is, you will have plenty of days to have fun with the many plans with children that we offer you in Onis. Choose and combine our proposals and plan unforgettable days.
Plans for all ages to connect with nature: routes and walks through forests, rivers and meadows specially selected to do with children, a self-guided trail to see birds, go caving and see a fossil skeleton, see vultures and bearded vultures, visit a cave with replicas of ice age animals…
Hiking trails with children
We have selected simple walks and routes for you to enjoy with your children.
Listen to the birds, find a cave, discover a mill… Take a walk and don't miss anything in Onís!
Bike routes with children
Choose among our bike routes the easiest ones to do with children.
We especially suggest the circular route around Benia. It is short, circular and with little slope, between villages and meadows.
Ornithological Walk along the Güeña River
Ecotourism activity
Self-guided walk along the banks of the Güeña River equipped with an observatory and bird feeders, perfect for enjoying nature with children.
Combine it with a visit to the Centro Las Montañas el Quebrantahuesos, which is next door.
Interpretation Center of the Glacial Fauna of Avín
Museum
A unique museum, inside a cave, with replicas of Ice Age megafauna.
Are you going to miss life-size mammoths, rhinoceroses and sabertooths?
Caving in the Peruyal
Adventure activity
Become a paleontologist for a day! An adventure for the whole family, visiting a cave and discovering the real skeleton of an Ice Age rhinoceros.
Combine it with a visit to the Glacial Fauna Center, with replicas of Ice Age animals.
El Quebrantahuesos Mountain Center
Museum
In this Bearded Vulture museum you will discover where it lives, how it feeds, how it raises its chicks and also how this incredible bird has been able to fly over our mountains again. It has a permanent exhibition with replicas, audiovisuals and offers guided tours.
Bearded Vulture Observation
Ecotourism activity
Observe bearded vultures and other scavenger birds in the wild, with the Foundation for the Conservation of the Bearded Vulture FCQ.
Nobody better than our neighbors to act as guides and make you feel like farmers for a day, show you how a sheep is milked or how the cheese we keep in caves is made.
Visit to Granja La Oveja Feliz
Agritourism activity
An ideal experience for families on a farm to see the animals up close. He combs the donkey, caresses the horses, feeds the chickens….
Visit and tasting at the Vega de Ario cheese factory.
Agritourism activity
Guided visit to the artisan cheese factory, with our family of several generations of cheesemakers and a replica of a hut of the Port to see how Gamonéu was made in the past.
Visit the Demués farm and cheese factory.
Agritourism activity
Get to know our farm and the whole process of making Gamonéu cheese. We accompany you from milking to sales in our local products store.