Ornithological walk on the banks of the Güeña River
Observe the birds that live along the river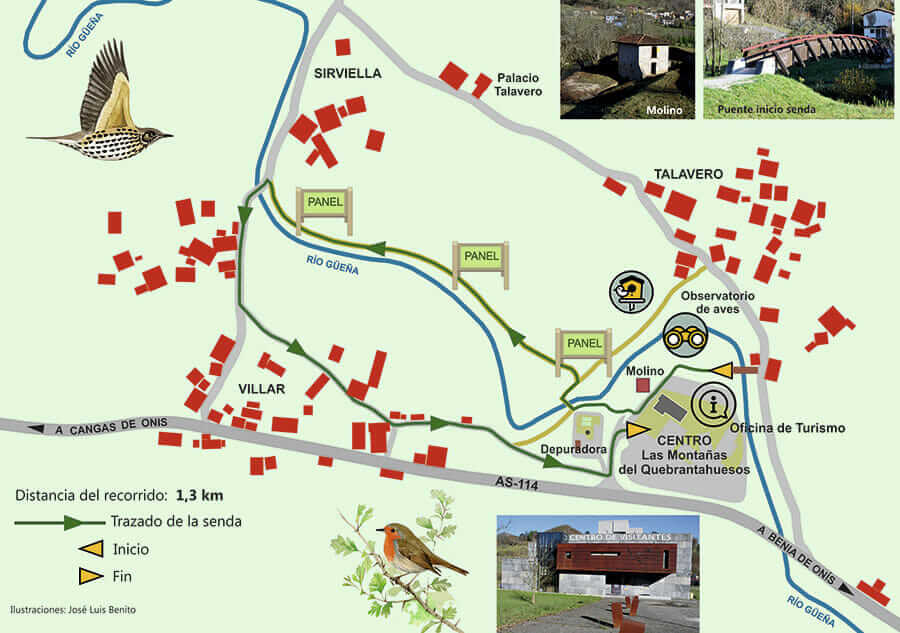 Do you want to get started in ornithology? We help you to discover the wildlife of a natural river like the Güeña.
Walk ON YOUR OWN along this river trail equipped with feeders, nesting boxes, bird observatory and information panels. Learn to differentiate species and get to know this rich ecosystem. You will discover different species of birds, riparian forest trees, insects and small plants.
But if you WANT TO LEARN MORE about the birds, their behavior and biology, you can take a GUIDED TOUR with an expert ornithologist from the Bearded Vulture Conservation Foundation (5€ adults and children up to 6 years free).
Take a leisurely stroll and be amazed by life along the river!
Where?
In Tullidi. The route starts from the recreational area, next to the Bearded Vulture Mountains Center.
How long does it last? 1.3 km long and the time depends on how much time you spend enjoying the species.
When can it be done? All year round
In which languages? In Spanish
Is it accessible? No
Is it suitable for families with children? Yes
Pricing:
Route on your own:
Free
Guided tours:
5€ adults
Free for children up to 6 years old
The activity includes:

1.3 km marked trail
Bird observatory
Feeders and nesting boxes
Information panels
Optical equipment; binoculars and spotting scope (if you do the route with a guide).
Schedules:
Route on your own:
All year round
Guided tours:
Consult FCQ. Tf. 985 844 293
A beautiful trail in a bird microreserve
YOU CAN'T MISS IT IF…
You want to connect with nature, learn about the river's fauna and flora and get started in ornithology. You want to awaken in children a love of nature, curiosity and patience. Or you just want to take a quiet walk in a peaceful natural environment, accompanied by the murmur of water and the chirping of birds.