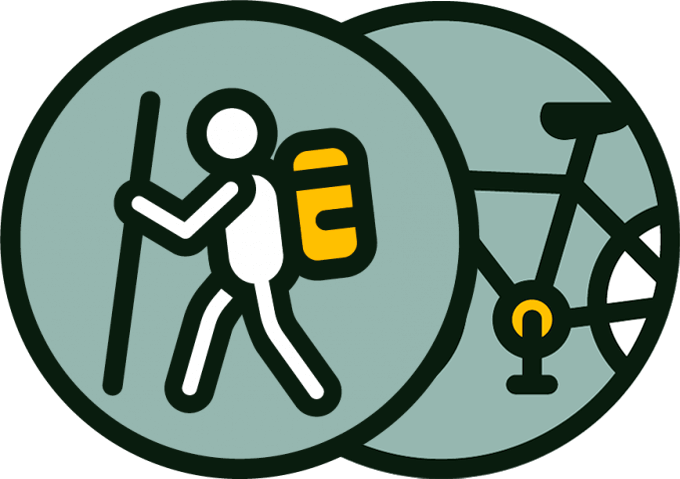 Ecotourism
Sustainable tourism in the Principality of Asturias
In Onís we are working to minimize the impact of tourism. We intend to be pioneers in the development of ecotourism in Picos de Europa with our ambitious Tourism Sustainability Plan.
Ecotourism activities in Asturias
Onis is a council of the Principality of Asturias, located in the heart of the Picos de Europa, where you can develop a multitude of ecotourism activities. Hiking, biking, mountain biking, riverside walks or many other guided experiences. Get to know them and enjoy them!
Hiking trails
Walks and routes for all levels.
Get to know our landscapes on foot, enjoy the flora or the birds of the countryside. Take your camera, your binoculars or your brushes and enjoy our nature at your own pace.
Ornithological Walk along the Güeña River
Self-guided walk along the banks of the Güeña River equipped with observatory and bird feeders, perfect for beginners in ornithology.
Combine it with a visit to the Centro Las Montañas el Quebrantahuesos, which is next door.
High mountain routes
Ascend to our summits, walk through our sheepfolds and enter the heart of Picos de Europa from Onís. While the bearded vultures and vultures fly over our peaks, you may be able to observe the wallcreeper . For lovers of alpine flora, the Picos will always be a delight.
Only suitable for experienced mountaineers or with the help of our guides.
Bicycle routes
Tour Onís by bike!
We have routes to enjoy on a touring bike , gravel or mountain bike.
Forest baths
Immerse yourself in the forests of Onís and connect with nature with all five senses.
Chestnut groves, carbayedas, fluvial forests… a real immersion in nature. The forests are to be enjoyed at any time of the year.
Guided experiences
Ornithology, paleontology, mountaineering… experiences in our nature, guided by local professionals local professionals with whom you can enjoy our landscapes, flora and fauna.