Speleology in La Peruyal Cave
Discover the skeleton of the prairie rhinoceros with expert guides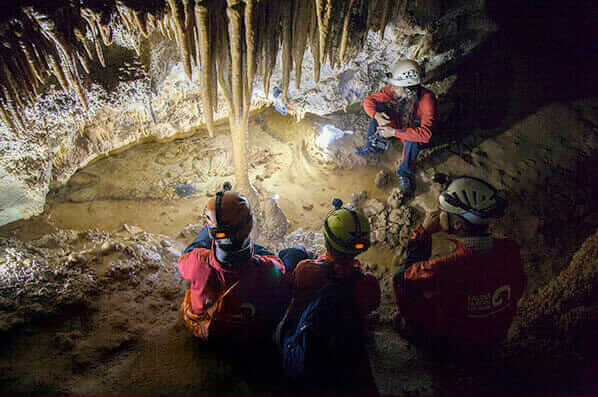 Guided visit to the interior of La Peruyal Cave, you will be able to see the complete skeleton of a prairie rhinoceros calf.
This specimen of Stephanorhinus hemitoechus is unique in its species and a symbol of life in the north of the Peninsula in the glacial era.
Accompanied by specialist guides you will be surprised by the striking geomorphology of the cave, with spectacular stalactites and stalagmites and you will discover the curious life that inhabits it.
Where?
In Avín, in La Peruyal Cave, the visit starts at the Avín campsite.
How long does it last? 3 hours.
When can it be done? June to October
In which languages? In Spanish
Is it accessible? No
Is it suitable for families with children? Yes, from 8 years old
PRIOR RESERVATION ESSENTIAL
Pricing:
Adults: 25€.
Children (from 8 years old): 20€.
The activity includes:

Specialist guide
Caving suit
Helmet
Front LED
Schedules:

June 15-October 1 (by reservation)
Mornings: 10:45
Afternoons: 15:30
Tuesday NO visit
Become a paleontologist and paleontologist for a day
YOU CAN'T MISS IT IF…
You like adventure and want to enter a natural cave like a real speleologist. You want to know how caves are created and their curious shapes. You want to discover the cave fauna. You want the privilege of seeing an authentic skeleton of an Ice Age animal.