Mountain routes
Ascents and hikes on our summits and in our sheepfolds.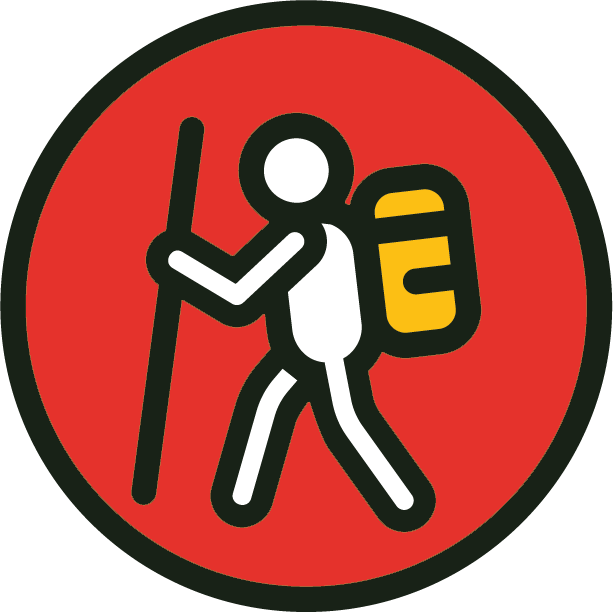 Mountain route
Length: 14.6 km | Approximate time: 6.5 h | Difficulty: Medium-High| Type: Circular
This route follows the itinerary of the mountain race "Trail del Quesu Gamonéu", with some modified sections to make it easier and safer.
The route begins at the parking lot of the Glacier Fauna Visitor Center of Avín, with a continuous ascent of about 7km through 'caleyas' and trails to reach the highest point, at the foot of the classic Pico Pandescura (1,004 m). It is worth climbing this emblematic summit to enjoy its magnificent panoramic views.
However, along the way there are also spectacular views of the Casaño River canyon, the surrounding green valleys, the Cuera and Sueve mountain ranges and the Picos de Europa.
The return is easy, between fields where cattle graze at ease. The final stretch runs on a concrete track, but the views from there are also worth it!
Nearby towns: Benia, Bobia de Arriba, Demúes and Gamonéu.
Landscape: panoramic view of the south (council of Onís, Picos de Europa), north (marina, council of Llanes), east (Cabrales) and west (Sueve mountain range, Picu Monfrechu) and its green valleys.
Basic data
Starting point: Parking Cueva Fauna Glaciar (Avín)
End: Fauna Glacier Cave Parking (Avín)
Length: 14.6 km (14 without ascent to Pico Pandescura)
Approximate travel time: 6.5 hrs
Type of route: Circular
Unevenness
Elevation gain: 898 m
Downhill elevation gain: 898 m
Maximum altitude: 970 m Pico Pandescura (920m without ascent)
Type of road surface
combination of trails, dirt/gravel tracks, some stretches of concrete or asphalt tracks, country roads. There are areas that can be muddy and slippery with/after rain.
Some skill is required to climb Pandescura Peak.

Severity: 2 | Orientation: 2
Difficulty: 2 | Effort: 4


RECOMMENDATIONS
We recommend that you carry enough water for the entire route, as there are no drinking water sources for the duration of the hike. It is important to wear comfortable shoes that protect the ankle, especially in muddy areas or in the optional ascent to Picu Pandescura. There may be areas with low brush, so detachable summer pants or gaiters can be a good protection.
Carry a walking stick (or two) to help you in the more technical areas.
It is a good idea to bring warm clothing for the higher elevations. In summer, don't forget to wear a hat and sunscreen.
There are no drinking water sources along the route.