Cycling routes
Routes to enjoy Onís on our bicycles
B3. Return from Benia through Demués-HB




Cycling route
Length: 19 + 14 km | Difficulty: Moderate | Difference in altitude: +750 m
Type: Circular + Linear
Itinerary: Benia – Grazanes – Llanos de Con- Demués – Bobia – Benia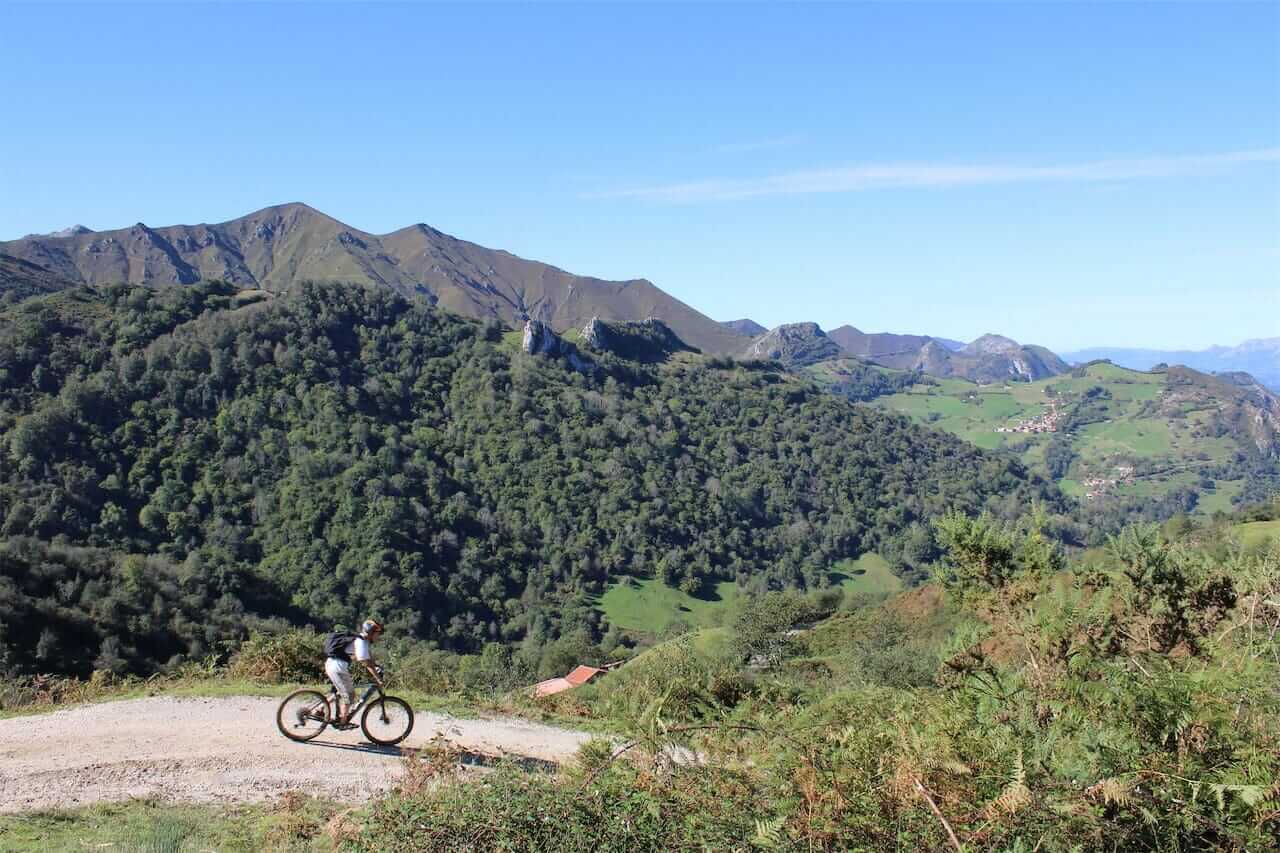 Technically easy route, which starts quietly with a gradual ascent to the village of San Martín, where the descent to Mestas and LLanu de Con begins, before starting with the 2nd climb and stronger, 250 m in 2 km. Once in Demués, decide if you have had enough fun or if you are ready to face the optional challenge: 750m of ascent to the Camba viewpoint, on the border of the National Park and with incredible views of the sea. The descent to Benia from Demués is easy and completely paved.
Landscape: Very rugged landscape of the Gamonéu cheese villages. Valleys with native forests and panoramic views of the Picos de Europa.
Basic data
Start: Parking Centro de Interpretación Quebrantahuesos
End: Same as start
Length: 19 km + 14 km optional (round trip to the Camba lookout point)
Elevation gain: 765+750 m
Maximum altitude: 453 m (or 1,048 m)
Type of route: Circular +linear



Type of road surface
95% of the standard route runs on paved secondary roads, but to avoid the AS-114 a short section is included on a gravel track with a good road surface. The optional climb to the Mirador de Camba from Demués follows a gravel track with sections of grooved concrete (and very steep).
Important note: The standard route is relatively easy and suitable for bikes with gravel, mixed and mtb tires but NOT for racing bikes with slick tires. The extension to the Mirador de Camba, at the entrance of the Picos de Europa National Park, is very hard but only because of its steepness.
RECOMMENDATIONS: On hot days it is important to get up early so that the sun does not hit you in the face during the optional climb to the Mirador de Camba. It is also important to carry enough water and an energy bar or fruit, because there is no bar after Llanu de Con, before the steepest climbs.